AdultLife.com is an adult dating site that guarantees to find you someone to hook up with in your city. The site does not shy away from its intentions, as plenty of erotic photos as well as the word "hookup" litter the AdultLife homepage. Not unlike some of the sites we've previously reviewed, such as NaughtyMeetings.com, a sexy and scantily clad hostess greets you as you enter the AdultLife homepage. The lovely hostess also guides you through the site's quick and easy sign up process, asking you a series of simple personal questions to help you meet sexy singles online and to get you on your way toward making connections. First, and perhaps most importantly, she asks you to select who you're looking to hook up with, be it man, woman, couple, or transexual. A nice immediate feature of AdultLife is that the site lets you select as many choices as you like and doesn't force you to narrow down your selection to just one option. After you've selected who you want to meet and what kind of person you identify as yourself, you simply type in your location, screen name and e-mail address and your free initial membership is complete.
After you've signed up, you're free to browse the site and explore some of your initial options. Along the top of the page you can see the various areas of the site to check out including the homepage, your mailbox, account options, search & matching, message board, and chat rooms. AdultLife also provides you with a list of suggestions for how to best get started on the site and increase your chances of making a good connection on the site. These suggestions include creating a detailed profile including basic information about yourself and your interests as well as your specific sexual preferences. A well-constructed and detailed profile will always increase your chances of making great connections online. AdultLife also suggests you check out who's viewed your profile, add photos and videos, visit forums and chat rooms and, of course, search for a date. Of course, you might be able to guess the site's final suggestion, which is to upgrade to one of its paid memberships to maximize your chances of finding someone to hook up with in your area. AdultLife has two paid membership options; Silver and Gold.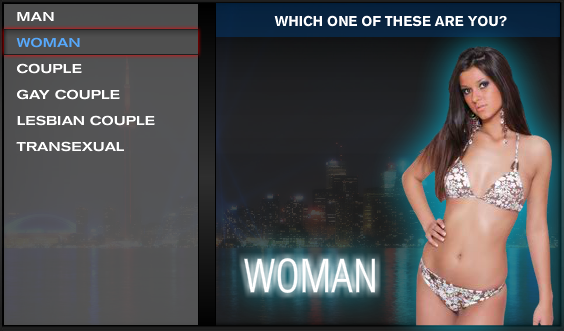 Features
Millions of members to browse through.
Initial sign up and basic membership is free.
Basic membership gives you the ability to browse and view all members profile pictures.
In addition to all of the features of basic membership, Silver membership grants you the ability to conduct advanced searches, view and contact all other members as well as unlimited instant messaging and chat.
Gold membership grants you all of the features of Silver membership, as well as the added features of unlimited webcam chat, access to hardcore porn, and your profile will be given a "featured listing" in all other members' searches.
Both Silver and Gold memberships offer AdultLife's guarantee that if you don't find someone to hook up with in 100 days, your next 100 days will be entirely free.
The Good
AdultLife is definitely not a site that beats around the bush and it allows you to start looking for exactly what you're after as quickly and easily as possible. The sign up process is one of the simplest I've ever come across. After just a few simple questions, all relayed to you by the site's gorgeous hostess, you're membership will be completed before you know it. With its millions of members, you're pretty much guaranteed to find a good match in your area – a fact that is reinforced by AdultLife's 100 day guarantee. A feature that I found great about the site's initial sign up process is that when asked what kind of person you're looking to meet, AdultLife allows you to select multiple answers, thus avoiding any unnecessary pigeonholing. The site also features a transexual option, which is always nice to see on more progressive and open dating sites. As for the layout and design of the site itself, it couldn't be any sleeker or easier to navigate through. The suggestions of how to make your experience on the site as enjoyable as possible are also a nice feature of AdultLife. Furthermore, when creating your profile, the site gives you an information check list to fill out, which makes updating your profile extremely easy. Answer as many or as few questions as you like, as there's absolutely no obligation.
The Bad
As is quite common with adult dating sites, the features of AdultLife's free basic membership are fairly uninspiring and boring. Though basic membership does allow you do explore the site a little and browse through member profiles, you will definitely need to upgrade to one of the site's paid membership options if you want to get the full effect out of AdultLife. The site's basic membership pretty much just works as a big tease, drawing you in and showing you all that the site potentially has to offer, but not allowing you full entry until you've upgrading to Silver or Gold membership. Alas, this is the norm for dating sites these days and its a fairly minor drawback in the long run.

Pricing
As mentioned, AdultLife offers two paid membership options. Silver membership can be purchased for a three day trial $1.95, a one month membership at $29.95, or a three month option at $19.98 per month. Gold membership meanwhile is priced at $34.95 for a one month membership, $23.32 per month for a three month membership, or $12.50 per month for a year long subscription. All memberships are purchased as a single lump sum.

Conclusion
AdultLife is definitely one of the best adult dating sites I've come across this year. Regardless of your sexual orientation or what kind of person you're looking to meet, you'll be sure to find something up your alley among AdultLife's millions of members. I would definitely say that whether online dating is something new to you, or you've got a lot of experience making connections on the web, this site is definitely worth checking out.