EroticMatcher.com is a new adult dating site on which it states you'll "discover the best dirty dating now!" There are plenty of sites out there that can help get you some action, but EroticMatcher, as its name suggests, aims to actually match you up with someone you'll have a truly great experience with. This site also helps cater to those of you who might be a little bit tired of trying to find hookups at bars and clubs. "There are so many hot singles in your area you want to meet, but meeting the people who really turn you on can seem impossible at times." Does this sound familiar to you? If so then this might be the perfect site for you. As they put it themselves, "since there are thousands of members on EroticMatcher.com in your local area, there is no reason why you shouldn't be able to meet the exact type of person who turns you on the most?"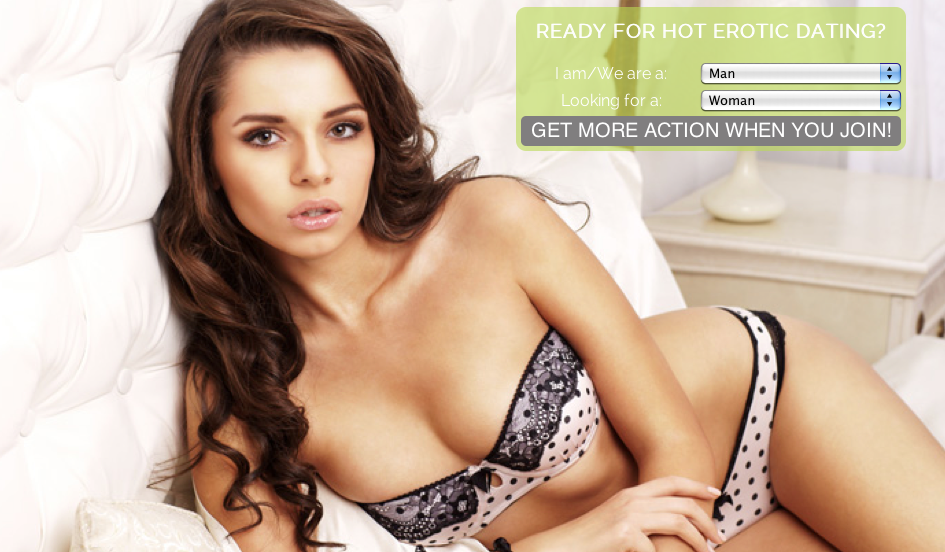 Sexy pictures and member testimonials are strewn across the homepage of EroticMatcher. The testimonials let you get a good feel for the site and its members before you've even left the front page. Its immediately clear that there is definitely a wide variety of members on EroticMatcher, which seems to be in agreement with the site's assertion that there is something or someone worthwhile for everyone already signed up. Whether you're male or female, gay or straight, you're pretty much guaranteed to find someone great to hook up with on this site. And even you're not just interested in no strings attached hookups, your options are wide open on EroticMatcher. As the site states in its description: "have a one night stand or establish the kind of relationship you've been dreaming about having. It's all up to you and what you're comfortable with when you start your profile on EroticMatcher.com and start meeting the other members."
EroticMatcher gives you several ways to make connections with its great members. You just chat or instant message with members or have a full-on virtual date with the site's video chat feature. The site aims to make sure you're completely comfortable and in control of the way you want to make online connections. Chat and video call for as long as you want before deciding to meet up in person. If you're interested in a quick one night stand, you'll easily be able to find members interested in that too. You're options are limitless thanks to the site's many features and thousands of members. As they put it, "there's more than one way to enjoy dirty dating and EroticMatcher.com makes it possible for you to be as comfortable as possible when you're having the kind of dating you're looking for on the site."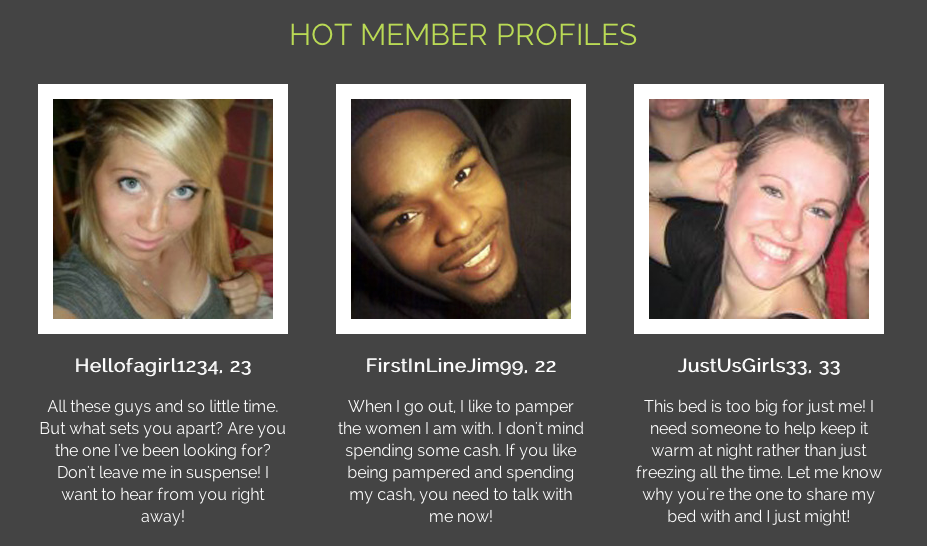 Features
Initial sign up is completely free.
Thousands of members have already joined.
Easily navigable layout and profile info that allows you to choose your specific desires.
Both public and private chat areas are available.
You have the option to upload a video to your profile to make yourself more noticeable to other members.
Advanced Search option allows you to save time by avoiding unnecessary searching through multiple profiles.
Several communication methods available including Instant-Messaging, E-Chat and Webcam.
"Sex Stats" feature allows you to see exactly what other members are looking for in a sexual partner.
"Most Popular" feature allows you to see which members are the most active on the site.
Members have the ability to see which members have accessed your profile, informing you of potentially interested members.
Gold membership gets you a featured listing in all member search results.
Both Silver and Gold memberships get you a 100 day guarantee: find a someone to hookup with in 100 days or your next 100 days come free.
The Good
EroticMatcher is defintely one of the best new adult dating sites we've recently come across. There are so many members with so many different desires that it seems literally impossible not to find someone with whom to have exactly the type of hookup you're looking for. The members seem to be very open about their desires, so its a great place to be entirely honest about what you're looking for and find your perfect match. Though the site is mostly catered toward those looking for great hookups, there is also the distinct possibility of finding your soulmate as well. Sexual chemistry after all is very important in any relationship. EroticMatcher allows you to make online connections within your own comfort zone, which is what makes it such a great site. Browse and chat with as many members as you like before deciding to meet in person. The way you go about making connections and with whom is entirely up to you thanks to the site's thousands of great members and many features.
The Bad
Like all dating sites, there are some slight drawbacks to EroticMatcher. As is quite common these days, the site's free initial membership is a little bit too good to be true. While you can sign up and browse member profiles with the free basic membership, thats just about all that you can do. You will need to upgrade to one of EroticMatcher's two paid memberships options in order to really get all the benefits the site has to offer. Also, since the site is relatively new, there may not be a ton of members in smaller towns. The site is growing quickly however, and this likely won't be an issue for long.
Pricing
As I mentioned, while basic membership is free, there are several payment options for both Silver and Gold memberships. Silver membership offers you a 3 day trial option for $1.95, monthly membership for $29.95 per month or a three month option for $19.98 per month. Gold membership, meanwhile, offers the same $1.95 three-day option as Silver membership, a $34.95/month option, a $23.32/month three month option and finally a $12.50/month yearly option.

Conclusion
EroticMatcher is definitely one of the best new adult dating sites we've had the pleasure of reviewing. There are thousands of sexy members, all with a wide variety of different tastes and desires. You're guaranteed to find a great hookup, and who knows, you might even find the love of your life. The way you go about making online connections is entirely up to you on this site, which allows you to be as comfortable as you like with its many features. Check out EroticMatcher, and don't forget to read some more of our dating site reviews. If you're looking for easy sex hookups, specifically, you'll probably want to check out EasySex.com (review here).