UniformDating Review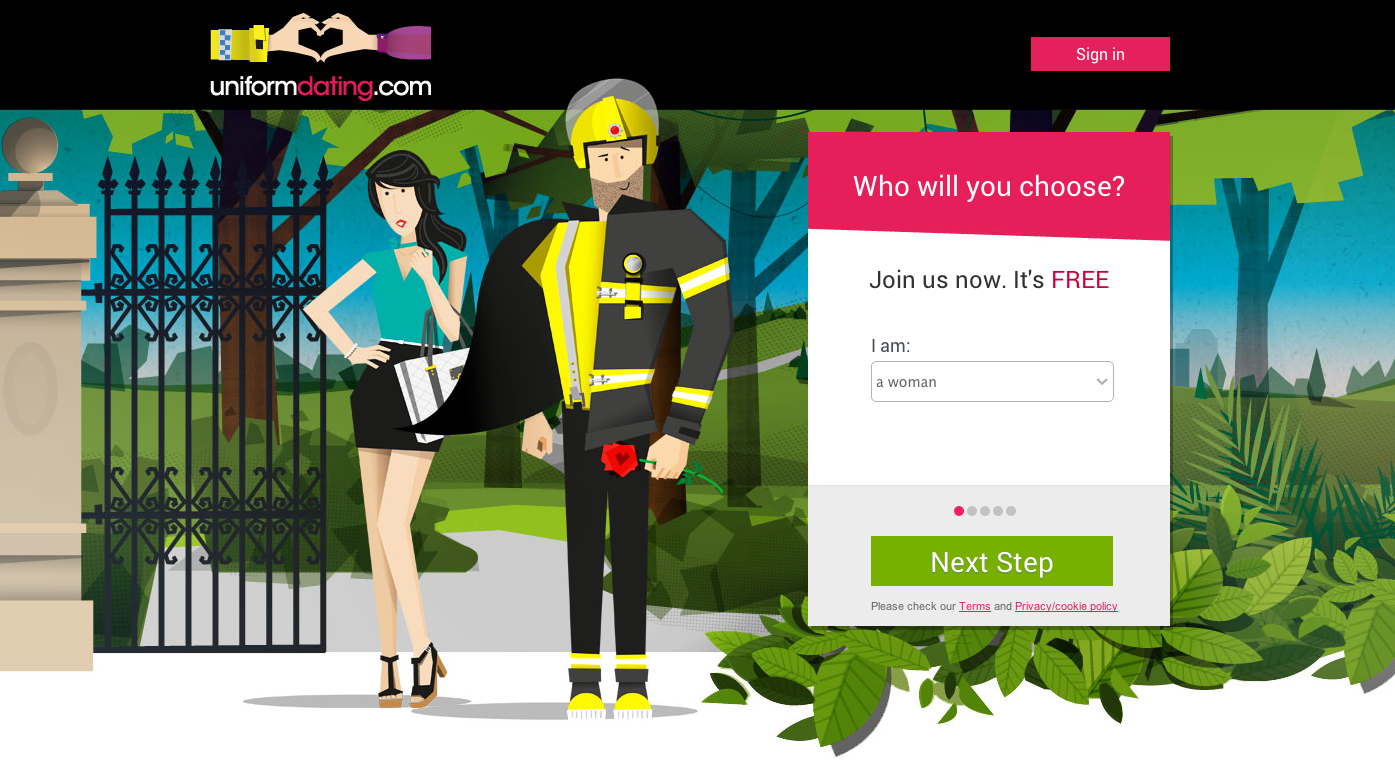 Ever wondered how to meet single police officers? Meet single firefighters? Meet single marines? Well UniformDating claims to be the site where you can find the partner of your dreams!
Check out their ad:
Features
UniformDating has a few basic features, with only a small number making the difference between the Standard Membership and the Full Membership.
Standard Membership Features:
Free to sign up.
Create and view profiles and add photographs.
Search the member database by profession: air crew, air force, army, firefighter, dentist/doctor, navy, nurse, police/sheriff/CO.
Add members to your "favourites" or block them.
See lists of who likes you, who wants to contact you, and your viewing history.
Contact with customer support via an online form.
Connect with them on social media – Facebook, Twitter, Google+, and YouTube.
Full Membership Features:
All features of Standard Membership.
Contact other site members and read/reply to messages you receive.
Use of the chat room.
The Good
For those that are willing to join, UniformDating does provide a place to for uniformed professionals and those looking to meet single police officers (and the like) to connect. So, if that is your very specific need, and you happen to want someone with a matching need, then.. yes, good. That's the "good".
The Bad
You may forget that people who work in uniform are still people when they're out of uniform. A site like this may draw those who want to meet single doctors, but many who are behind the white coat may not want that to be the first thing potential mates know about them – it could draw gold diggers, or people with other ulterior motives. So, in saying this, the "bad" is this: UniformDating is populated mostly by those seeking to meet single soliders, or marines, or pilots; and not so much with actual uniformed professionals.
And even with all the lonelies hoping for a uniformed beauty to sweep them off their feet, UniformDating has a very small member database. It's something that you have to work with when you choose to join a niche dating site, but the thing with this type of niche is that you'd probably have better luck (and spend less money) if you used a mainstream dating site and then just searched for members with particular occupations.

And I mean, their features are not that impressive. Sure, you can message members and all that – which is what a dating site is for, true – but there's no fun features that make you want to stay on the site during lulls in communication. Take a site like XPRESS, for example. When you're not talking to members, you can enjoy message board, erotic stories, games, streaming videos, and all kinds of other stuff. If I'm going to be paying more on a site like UniformDating, I better be getting some features!!
Pricing
UniformDating is free to sign up for, but if you want to send and/or receive any messages or get in on their live chat you'll have to upgrade. The upgraded membership can be purchased in on of three packages: $39.99 per month for a 1 month subscription, $24.99 per month for a 3 month subscription, or $18.99 per month for a 6 month subscription. They also offer a three day trial for $6.57.
These prices are fairly high for a niche dating site. Most adult dating sites aren't even this expensive! For a more specific target membership base and a site with fewer members, they should be cheaper, not more expensive!
CAUTION: UniformDating takes all their payments in one lump sum! A 6 month subscription will not be billed to you as $18.99 once a month for 6 months, but instead it will be billed as one payment of $113.94. They also automatically renew subscriptions, so unless you make a point of canceling, you will be charged again once your subscription runs out.
Conclusion
If you're wondering how to meet single police officers or soldiers or doctors or any of those lovely men and women in uniform, this might be a place to start, sure. But I honestly don't think you'll be any more successful at finding a uniformed mate on this site than you would be on a mainstream dating site. The only difference is that if you use UniformDating, you'll be paying more, have less features, and have fewer members to choose from.
I recommend trying one of our best dating sites for better success. And if casual sex is more your things, we have reviewed some excellent adult dating sites! Try Fuckbook or Social-Hookups! Both sites have a 100% guarantee that you'll hook up or your money back!
One Response to "UniformDating.com Review"