Deaf Singles Meet Review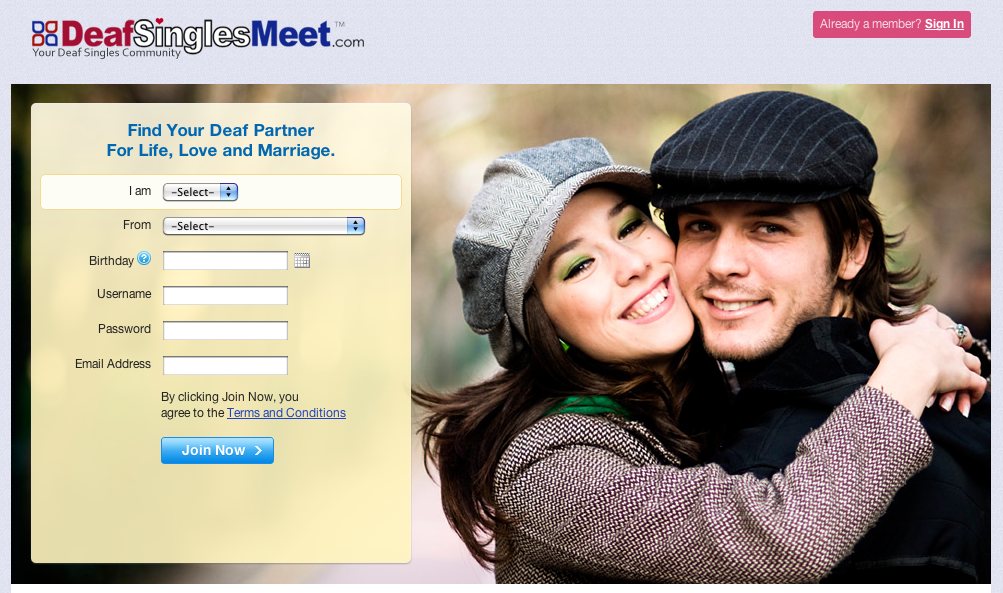 Deaf Singles Meet is an online dating site for the hearing impaired, simple as that. It's just like another other online dating site, but the members on Deaf Singles Meet are, well, deaf. Having a physical disability can seriously hinder your search for love (or lust) and Deaf Singles Meet has provided a safe, inviting place for deaf singles to connect with each other.
Features
Deaf Singles Meet has different features for its basic members and its platinum members.
Basic Membership Features:
Free to sign up.
Create and view very detailed profiles.
Send "winks" and add members to your "favourites".
A News Feed showing newest members and profiles updates.
See who's viewed your profile.
Contact their customer support team via email or phone.
Platinum Membership Features:
All features of Basic Membership.
All messages sent and received can be read.
You can initiate chat conversations.
Detailed search – can filter search results by a variety of factors, where basic search is just age range and location.
The Good
Deaf Singles Meet has create a feeling of comfort and safety on their site because members know that every other member understands and accepts their disability before they even start talking. They know they don't have to worry about the other person finding out, or worse, being scared away by it.
The Bad
Deaf Singles Meet is rather boring, for one. It's a very bare bones site with no fun features like chat rooms or games. And I know you're there to connect with other members, but I always appreciate a site that gives me options for interaction – chat rooms, message boards, instant message, video chat – Deaf Singles Meet has nothing like that.
It's also incredibly conservative, and not very effective for the deaf single who's looking for hook ups and one night stands. But luckily for them, there are plenty of adult dating sites for that, and people who are looking for casual sex generally won't turn you away because your ears don't work. As long as the other things work

They also have an incredibly small member database. I mean, it's to be expect from a niche dating site  like this, but the bottom line is that you may end up having better luck on a mainstream dating site, regardless of disability or hinderance.
Pricing
Deaf Singles Meet is free to sign up for, but you won't be able to use most of their features unless you upgrade. Their platinum membership can be subscribed to in one of four packages: a one year subscription for $4.36 per month, a six month subscription for $5.31 per month, a three month subscription for $7.07 per month, or a one month subscription for $10.61.
These prices are a good representation of what niche dating sites should be doing with their pricing. Because niche sites have way fewer members, and generally fewer features, they will not fare well if they insist on charging as much as mainstream dating sites. Deaf Singles Meet has great pricing for the services they offer.
Oh, but BE WARNED: Deaf Singles Meet takes all their payments in one lump sum, not as monthly installments. SO, if you get the one year subscription, you will be paying $53.07 at the time of upgrading, not $4.36 per month as advertised.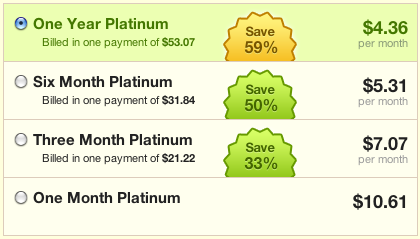 Conclusion
If you're wondering where to meet single people that are deaf, Deaf Singles Meet is it! But unless you are really in the market for this extremely specific niche, I'm not sure it would do you much good to join up. Even if you are deaf, you would have a better chance of finding someone compatible and accepting of you on a more popular dating site. And if you're looking for casual sex and hookups, then one of our top rated adult dating sites are for you – check out SocialSex or EroticSearch! Both come with a 100% guarantee that you'll hook up!
One Response to "DeafSinglesMeet.com"