OkCupid Review

OkCupid.com is the fattest growing, mainstream internet dating site, launched in 2004. The website has claimed to have 3.5 million active users at their peak. OkCupid offers a free math based matching system to connect potential compatible matches.  Member's matches are generated based on answers they provide to a list of questions once they sign up. Some of the questions include "do you like the taste of beer?", "have you ever travelled another country alone" and "is sex the most important part of a relationship?" Many members on the online dating site have commented that the questions are larger themed around religion, politics and superficiality.
Features
100% free to join
Ability to have friends create recommendations for you on your profile
"QuickMatch" ability to see exactly where you and someone else match up
Option to create questions for other OkCupid members to answer during their matching process
Can filter members based on body image, for a fee
Members can create personal journals to be published on their profiles
Can connect to OkCupid using Facebook
The Good
OkCupid has been around for many years and has developed the reputation as a well trusted adult dating site. Having been around since 2004 they hit their peak at under 4 million members. This is less than some of my other favourite adult dating sites including XPress which boasts over 5 million users, and those are only the who are active daily to meet singles. One of my favourite things about OKCupid is that fact that the website gives you the ability to meet singles for free. Becoming a member on OkCupid is completely free, however this has it's drawback as well. With a completely free membership the quality of the singles that you meet online is lowered drastically (I'll cover more of this in 'The Bad' section).
Members have the ability to rate one another out of 5. If you receive a rating of 4 or 5/5 receive access to other highly rated members, resulting in a higher chance to meeting a sexy single online, rather than their less attractive members.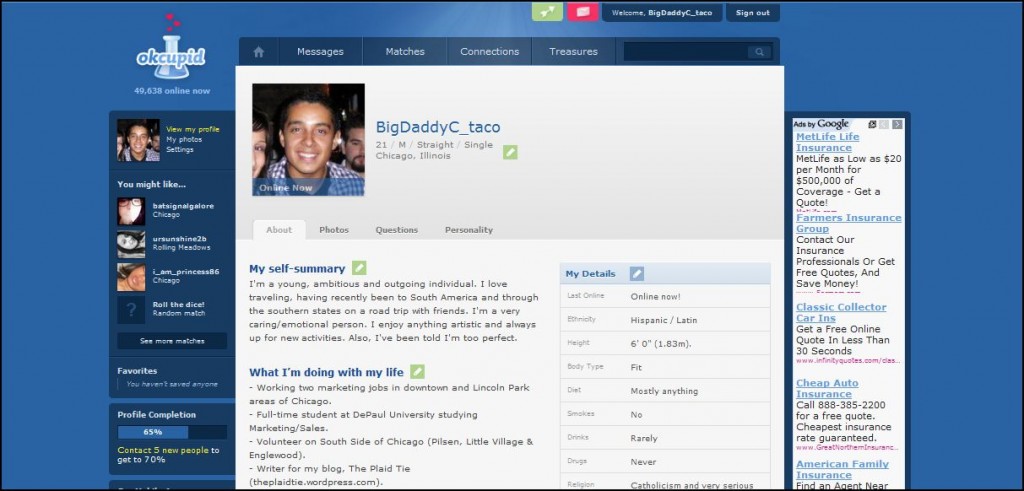 The Bad
OkCupid has been known to have some of the least attractive members of all the online dating sites. This is a result of having a completely free website because those are truly serious about finding an online hookup are more willing to invest into a high quality website, like AdultLink or PassionSearch. OKCupid does provide the option to heighten your chances of meeting sexy singles online. You can pay a fee to be able to filter through their members based on body image. This is unfortunate because it contradicts their rating system that allows only those who have a rating or 4 or 5/5 to be able to browse other highly rated members.
Due to the fact that OK Cupid has been around for so many years, there are many features that used to make the online dating service stand out amongst it competitors when it was first launched, however they are now outdated and many features are now "retired". The entire matching process is based upon match instead of an actual connection that you're able to make for yourself.
Pricing
OkCupid is a free online dating site, however there is a paid option to become  an 'A-List members', allowing you to get rid of advertising, create photo albums, be added to an 'A-List Membership' search results list, and filter through advanced search options. The premium level membership costa $4.95 per month.
Conclusion
OkCupid would not be my first choice for an online dating site to meet singles online. However, you are looking for a free site to test out and don't mind the website's serious lack in attractive members than you may want to check them out. I, on the other hand, prefer online dating sites where the members are a lot more open minded and there are millions of sexy singles to browse through.