WesternMatch Review
As a city gal, I'm not often thinking about how to meet single cowboys. However, I can certainly see the appeal of both cowboys and cowgirls – rough, dirty, fit, covered in plaid… yeah, I see it.
And so that brings us to WesternMatch, "one of the most fun and effective, true country western singles dating services" – or so says their homepage. I'm not fully convinced this is the most effective way to meet single cowboys and cowgirls but, we tried it anyway.
The site itself is super plain and simple. The sign up process is brief, but did include a super hilarious question asking you to evaluate your "Horse Riding Skills". Yes, "horse" riding. We run into this joke further when one of the "Relationship Looking For" options was "riding partner". Heehee – cowboy puns.
Features
WesternMatch has several basic features with their Free Membership, and upgraded features with their paid Gold Membership.
Free Membership Features:
Free to sign up.
Create a profile and upload up to 5 photos.
Advanced search functions and saved searches.
Chat room where many members can converse at once.
Can receive and read messages, but not reply.
See who's viewed your profile within the last week.
Have a "Friends" list to stay informed of when certain members are online, etc. (must be approved by other member)
Have a "Favourites" list to stay informed of the actions of those members (does not need to be approved by other members)
Send virtual gifts (roses, chocolates, kisses, cowboy hats, beer, etc.)
Send Ice Breakers: wink ("Your profile caught my eye. Maybe we can chat sometime?"), howdy ("I like your profile and just wanted to say hi."), and whistle("I think you are mighty fine.")
Can block members, if needed.
View a calendar of events posted by other members and RSVP to any events in your area that you'd like to attend.
Gold Membership Features:
All features of Free Membership.
Add up to 10 photos to your profile.
Upload videos to your profile.
"Chat Now" – instant messaging system so you can talk one-on-one to other members in real time.
Can receive, read, and reply to all messages as well as reply to ice breakers with a message.
Can post events on the event calendar.

The Good

Honestly, I guess the only thing that really stands out as uniquely good on this site is that it is very pure. Pure, in the sense that there are not a lot fake profiles or scammers. It's a very untainted site, which is somewhat rare in the world of online dating. However, that doesn't make up for the fact that they have an incredibly low number of people in their member database. I mean, the first username I tried was actually available. That's unheard of.
The Bad
I think WesternMatch is forgetting that cowboys and cowgirls can be modern and stylish and that not only can they appreciate the finer things, but they deserve at least what is expected of any other online dating site out there. This site is ugly, old, and bare bones. And they use Comic Sans, guys. COMIC SANS. The horror! WesternMatch either does not have respect for their members, or cannot afford to hire a better web designer. Either way, it's bad.
And I would like to mention that every time I've been on, the chat rooms were "currently unavailable". I don't know if that's a normal occurrence or not, but it certainly wasn't a selling point. And even of the features that ARE working, they're not all that great. All common features of other dating sites, yes. But they don't have anything on the site for you to entertain yourself during downtime in communication. With other sites we've reviewed, like PassionSearch, for example,  you can enjoy chat rooms, message boards, erotic stories, games, streaming videos, and all kinds of other stuff when you're not talking to members.
Pricing
WesternMatch has five subscription options. You can get a one month subscription for $14.95, a three month subscription for $19.95, a six month subscription for 29.95, a one year subscription for $39.95, or a 10 year subscription for $59.95.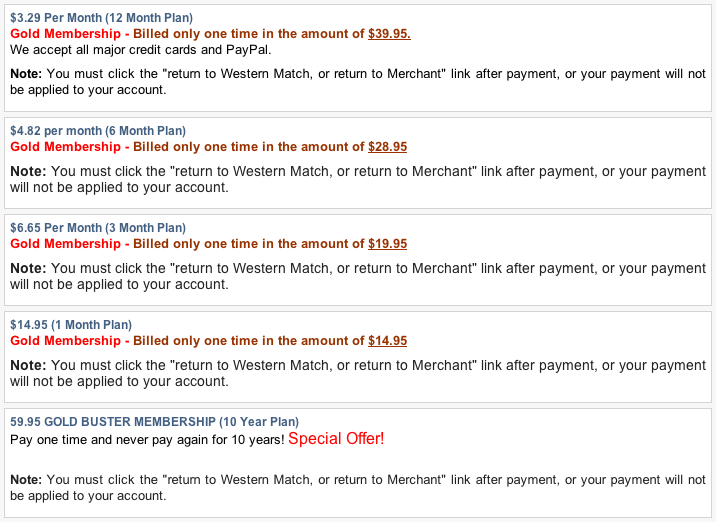 They accept payment by all major credit cards and through PayPal.
Conclusion

Maybe WesternMatch isn't the place to meet single cowboys and cowgirls. I scoured the internet, and there doesn't seem to be a really great alternative for this particular niche dating site. But due to their extreme lack of numbers, I honestly believe you'd have better luck on another dating site. Just look through singles in your area and look for those country boys and girls who have the same interests and hobbies as you. Try a site with millions of members, like XPRESS if you choose to go this route, or if you really are just looking for a "riding partner" try one of our top-rated adul dating adult dating sites like SocialSex or XXXBook. Both sites have a 100% guarantee that you'll hook up or your money back!